The SuperMicro X10SLE-F is nice, but it has very limited expansion; no PCIe slots and the MicroLP adapters with SFP+ are insanely expensive. Fujitsu motherboards, in the EU, are quite cheap (33€ on eBay) and I have never owned a Fujitsu system before, so I thought I would give it a try.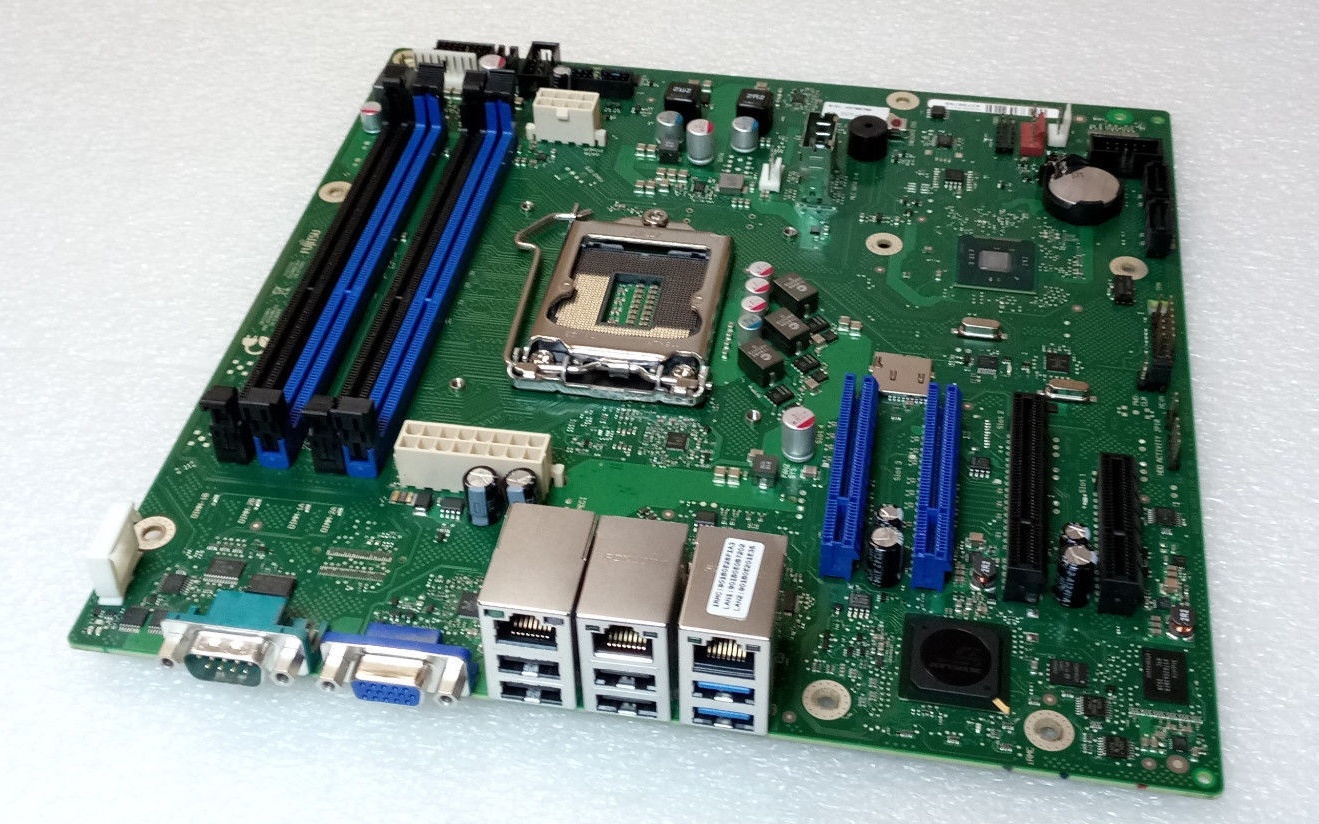 The first order of business, since I bought a bare motherboard, is to power it from an ATX power supply. Luckily for me, other people have determined the 16-pin power supply pinout: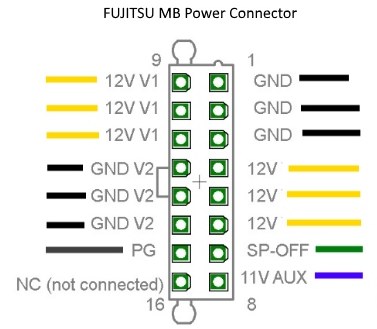 Side note: this appears to be a common power supply connector for Fujitsu motherboards with a 16-pin power connector. The Celsius W520 uses the same pinout.
The 12V rail appears to go directly to the PCIe slots and is completely isolated from 12V V1.
---
If the ambient temperature sensor is absent, iRMC considers the system in an error state. The Global Error/CSS lights are flashing and the fans run at full speed (100% PWM).
Unfortunately the ambient temperature sensor is integrated into the front-panel assembly (c26361-k644-c550), which I don't have: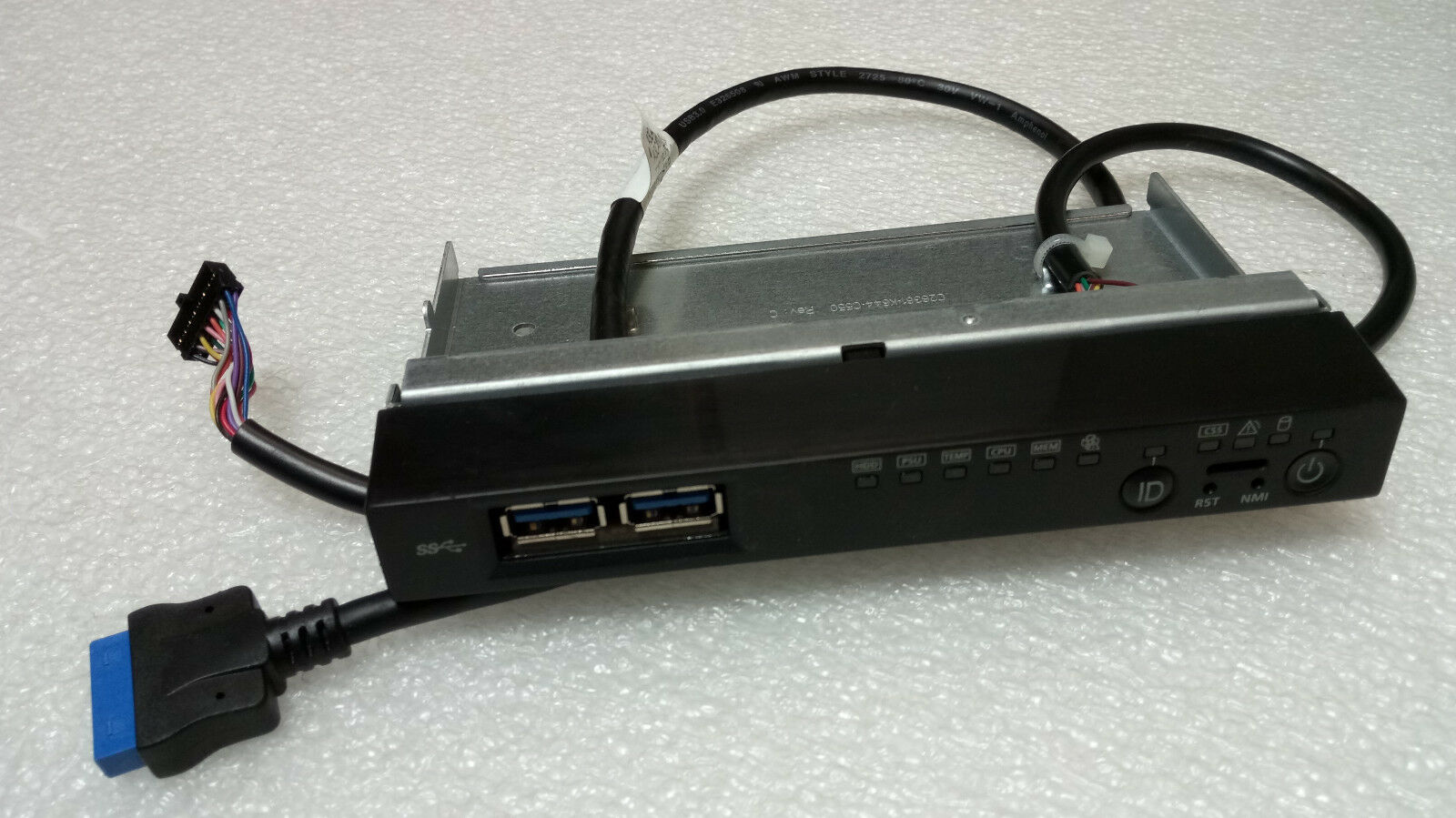 I couldn't locate the technical manual for the TX140 S2 (D3239), but technical manual of the TX140 S1 (D3049) has the following to say:
Measurement of the processor and the system internal temperature by an onboard temperature sensor, measurement of the ambient temperature by a I²C temperature sensor.

System board D3049 for PRIMERGY TX140 S1 / TX120 S3 – Technical Manual
I am unaware of any publicly available pinout of the 16 pin front-panel header (2×8, 2.0mm spacing), so I reverse engineered it: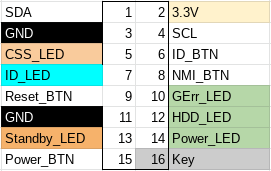 In table format:
| Pin | Description | Pin | Description |
| --- | --- | --- | --- |
| 1 | SDA (serial data) | 2 | 3.3V |
| 3 | Ground | 4 | SCL (serial clock) |
| 5 | CSS LED positive (Customer self service) | 6 | ID button |
| 7 | ID LED+ (anode) | 8 | NMI button |
| 9 | Reset button | 10 | Global Error LED+ (anode) |
| 11 | Ground | 12 | HDD activity LED+ (anode) |
| 13 | Standby LED+ (anode) | 14 | Power LED+ (anode) |
| 15 | Power button | 16 | Key (pin absent) |
Fujitsu TX140 S2 front panel pinout
We can confirm the I²C pins with a logic analyzer:

Now unfortunately, there are no high resolution photos of the front-panel PCB, so it's not possible to easily determine which I²C temperature sensor is being used.
There is a photo of a Fujitsu RX300 front-panel with a failed temperature sensor, but that is only enough to allow us to guess the chip model as the Texas Instruments LM75.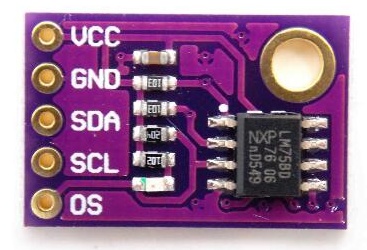 We can also guess the I²C address from the RX300 front-panel: all 3 address lines should be tied to VCC.
Now with the sensor connected to the front-panel connector using the pinout above, it is time to find out if Fujitsu used the same ambient temperature sensor on the RX300 and TX140 S2, and if I guessed the I2C address correctly.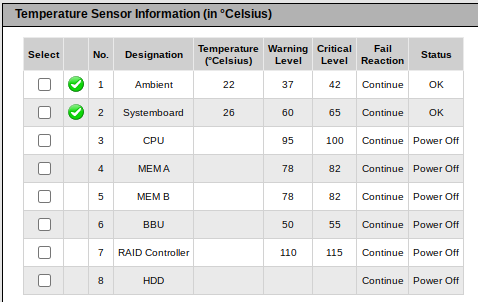 There is a chassis IDPROM also in the front panel assembly, which from the iRMC log appears to store a backup of the BIOS parameters after successful POST. I consider the IDPROM somewhat optional, as iRMC does not consider it a critical component in terms of server functionality.
---
First impressions are good, power consumption is very low, though not as low as the X10SLE-F. Idle power consumption in Linux is under 20W with an E3-1220 v3 and 16GB of PC3L-12800E.
lspci output:
00:00.0 Host bridge: Intel Corporation Xeon E3-1200 v3 Processor DRAM Controller (rev 06)
00:01.0 PCI bridge: Intel Corporation Xeon E3-1200 v3/4th Gen Core Processor PCI Express x16 Controller (rev 06)
00:01.1 PCI bridge: Intel Corporation Xeon E3-1200 v3/4th Gen Core Processor PCI Express x8 Controller (rev 06)
00:14.0 USB controller: Intel Corporation 8 Series/C220 Series Chipset Family USB xHCI (rev 05)
00:19.0 Ethernet controller: Intel Corporation Ethernet Connection I217-LM (rev 05)
00:1a.0 USB controller: Intel Corporation 8 Series/C220 Series Chipset Family USB EHCI #2 (rev 05)
00:1c.0 PCI bridge: Intel Corporation 8 Series/C220 Series Chipset Family PCI Express Root Port #1 (rev d5)
00:1c.2 PCI bridge: Intel Corporation 8 Series/C220 Series Chipset Family PCI Express Root Port #3 (rev d5)
00:1d.0 USB controller: Intel Corporation 8 Series/C220 Series Chipset Family USB EHCI #1 (rev 05)
00:1f.0 ISA bridge: Intel Corporation C224 Series Chipset Family Server Standard SKU LPC Controller (rev 05)
00:1f.2 SATA controller: Intel Corporation 8 Series/C220 Series Chipset Family 6-port SATA Controller 1 [AHCI mode] (rev 05)
00:1f.3 SMBus: Intel Corporation 8 Series/C220 Series Chipset Family SMBus Controller (rev 05)
00:1f.6 Signal processing controller: Intel Corporation 8 Series Chipset Family Thermal Management Controller (rev 05)
03:00.0 VGA compatible controller: Matrox Electronics Systems Ltd. MGA G200e [Pilot] ServerEngines (SEP1) (rev 05)
03:00.1 Co-processor: Emulex Corporation ServerView iRMC HTI
04:00.0 Ethernet controller: Intel Corporation I210 Gigabit Network Connection (rev 03)
I have requested the GPL source code of iRMC from Fujitsu, and if they get back to me with the source code I may have some interesting findings to share. Stay tuned…